"No Honey, I do not know where your Dora the Explorer book went."
"Winnie the Pooh that is NOT AA Milne's brilliant and clever version? Nope. No idea that that might have fallen behind your bed a month or so ago." I might say.
I hate kids books. They are silly and mind numbing and...perfect for our little darling's mental and cognitive development. UGH. And because repetition breeds mastery our kids want to read and re-read their favorites over and over again. I think the Velveteen Rabbit By Margery Williams is AWESOME....but after weeks of reading it daily, I did tuck it behind the bed "accidentally". For two months. And I have a love hate relationship with Skippyjon Jones....but Portia has most of it memorized and that is purty darn cute, Mr. Fuzzybuns.
I might have fallen even more deeply in love with my husband as he began to read chapter books to my toddler girls last summer. "The Magic Gourd" by an author I do not recall and "Now We Are Six" by AA Milne, so very few pictures but OH! What beautiful language!
I have always been razzed for my use of language. I like big words and I used to read the dictionary to learn new ones. I've been told by bosses to 'dumb down' my words when teaching classes. I might not be a deep thinker, but I love WORDS and the wide depth and variety. Sure I cuss and use slang, but Je parles dans le Francais aussi! (May not be written correctly, but it is the spoken word I do best, you see.)
If the current masses of TV centric character books have you rolling your eyes, shoving them behind the bed or couch or donation box, try these choices instead! Sure, the language may sound high handed for your four year old, but isn't that better than dumbed down? And the plots and stories are richer, deeper and smarter than anything you will find through a made-for-TV-but-now-seeking-literary-acclaim piece of tripe. (I'm looking at you, Thomas Train!)
I buy used books through www.half.com for a SONG. Check these out: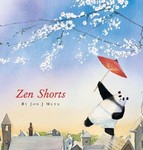 Zen Shorts by Jon J. Muth a collection of tales about a Big Panda who speaks "With a slight panda accent" full of life lessons and engaging illustrations....We have two of his books and I am looking for the rest. I read them when the kids are asleep. My Dad bought them for the girls becasue they often use haiku poems and he is all about that.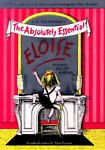 Madeline by Ludwig Bemelmans a charming story about little schoolgirls in France. My Aunt Ruth sent this one to the girls, I had never read it. THIS was a book I didn't mind reading daily for a time.
Eloise by Kay Thompson annoyed my Dad with her six year old antics but I enjoyed it. This one, again from Aunt Ruth who said a college pal used it as a monologue for a theater class! IMAGINE!
The House on Pooh Corner by AA Milne bears little resemblance to the Disney dumbed down kind of Pooh story book most of our children know. Just reading these makes me smile even when the girls do not get the subtlety.
The Tale of Peter Rabbit by Beatrix Potter is my least favorite...but they are all awesome and right now I cannot remember which book is about the dollhouse and that rotten mouse Muncha Muncha who lives in a dollhouse and cries while cutting a plastic ham.
Usborne books tend to be brilliant but more mainstream than the oldies. I know there are lots of very good books out there, what are some of your favorites?
I would love to hear about your ideas of clever books for small children. Erica Barker sent me this link to her post on Great Kids Books for Boys! And Jeff Cagwin sent me his post on books too!